Alexander Kumar isn't your average medical doctor.  British-Indian in origin and having grown up in Whaley Bridge (Peak District, UK) and with family in Delhi, he developed an appreciation from an early age for the natural world and life abroad.
(c) reproduced from http://www.alexanderkumar.com/
See Alex's Tedx talk…

Realizing knowledge and a sense humour weigh nothing, Alex travels light, armed only with a stethoscope and curiosity for life.
Aged 30 years, he has lived, worked and travelled through over 70 countries and has led and worked as an expedition medic to many expeditions in remote areas of the world, providing onsite advice and support.  He based in UK where he works as an acute care doctor.
Family
Alex is the youngest of four children.  His parents, both retired Professors of Cancer Research, combined the best of both English and Indian family heritage, instilling their passion and love for art and science.  His eldest brother is also a doctor, whilst his sister is an accomplished artist (www.natashakumar.co.uk) and his closest brother is a film-maker.
Education
After wriggling free from the restriction of his school years, he spent the next year living in Nepal teaching English, at the time of the tragic massacre of the Nepalese Royal Family.  He later graduated with a Medical Degree from Guy's, King's & St. Thomas' in London, following numerous medical placements including in India, Israel, Shetland and the Amazon.  He also holds a first class honours degree in International (Public) Health.
Passion for Science and Research
Since a young age, he has been fascinated by life in the Polar regions.
He followed his heart to the Canadian Arctic, where he completed his dissertation conducting the first piece of research on HIV among Inuit.
Alongside holding extensive experience in Polar Medicine, he holds a special research interest in snake bite- having witnessed its devastating effects to communities in Asia, Africa and South America.
Drawing Attention to Global inequality
He uses film and photography to help raise awareness about issues he feels strongly about – global health inequality -including indigenous peoples' health status, the impact of humans on the planet and complex human-wildlife conflict.
Planet Concordia ©
100 years on from Scott and Shackleton, Alex travelled to Antarctica and spent around one year (2012) living at Concordia, a joint French-Italian inland Antarctic research station, employed by the French Polar Institute as the Human Spaceflight Research MD to conduct research for the European Space Agency. This research will be used to help understand how far human physiology and psychology can be pushed towards a future manned mission to Mars.
Living and over-wintering as the only British national among a team of 13 Europeans in the most extreme and remote environment on the planet, enduring over 3 months of complete 24-hour darkness, alongside the world's coldest temperatures dropping down below minus 80 degrees Celsius, the crew survived in complete isolation with no means of escape for 9 months- simulating life on the surface of another planet.
Alex coined the term Planet Concordia – the name of his blog covering this period – describing his adventures, experiences and dreams.
Breathless
Living at Concordia Station is breath-taking – located high up at 3800m equivalent altitude the crew suffers the effects of chronic hypobaric hypoxia.  Located on Dome Charlie (Dome C) in the East Antarctic Plateau- the world's largest desert- Concordia is one of the closest analogue environments to long space missions that is available anywhere on Earth.
'Keep Calm and Carry On'
Faced by the loneliest and coldest job in the world, sometimes you can only Keep Calm and Carry On … Just 3 weeks before the period of isolation began, the Italian medical doctor due to provide cover for the winter-over period at Concordia, returned home.  Alex was then faced with a difficult decision- to take on the additional role as the station doctor.  Alex took on this role and has not looked back.  Before winter-over, he left Concordia and travelled to an US Antarctic Programme base where he gained useful, last minute Dental training.  He is the first and last doctor to have graduated from 'Antarctica's School of Dentistry'.
He is the first Research MD at Concordia station to take on the additional position as the Antarctic Station's doctor, holding full responsibility for the health and well-being of his multinational crew.  This is the first time since the station's creation and first winter in 2005, that there was only one doctor overwintering at Concordia.
This is Antarctica.  The Real Antarctica
This website and blog offers rare insight into his unique experience and the reality of the challenges, in surviving life at the extreme and the worse winter our planet has to offer and in many other extreme, interesting and peculiar environments around the world.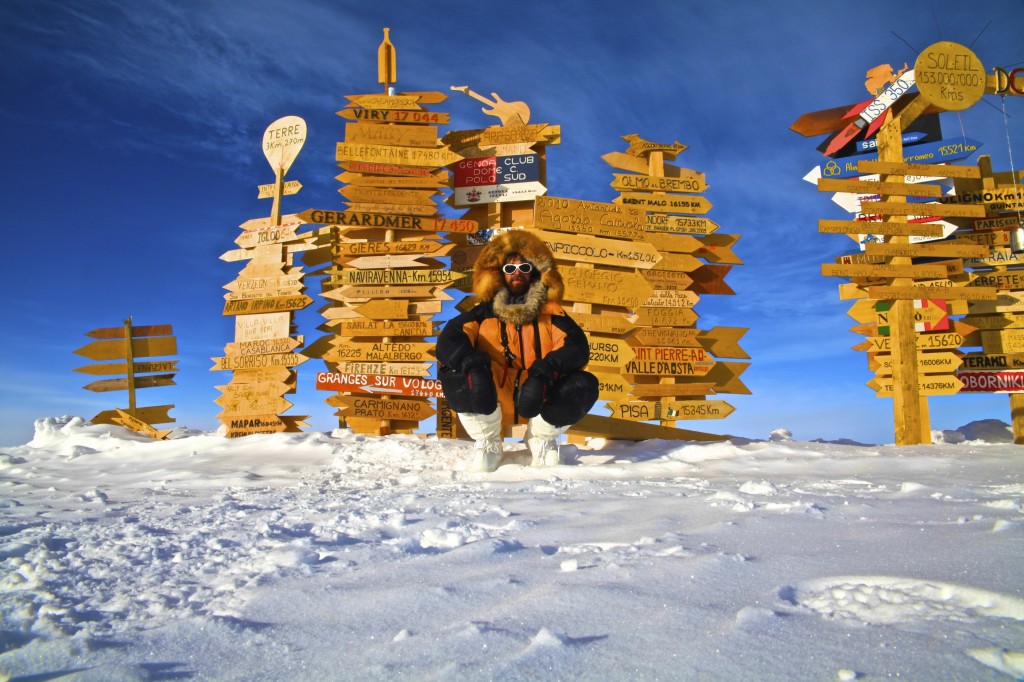 Building Support & Partnerships
Alex became the first doctor in the world to be supported by Crocs footwear.  He tests expedition equipment for other supporters also.
He supports and acts as a patron for several environmental and educational not-for-profit organisations including:
1. Ibex Earth   –    http://www.ibexearth.com
2. Oceans Project Georgia    –     http://www.oceansproject.com/
White Mars for Sir Ranulph Fiennes' Coldest Journey
The Coldest Journey, involving the first attempt at a land crossing of Antarctica during its winter, has created a unique opportunity for science.  Alex was invited to help set up and organise a substantial Human Sciences research project for The Coldest Journey.
Working with Dr Mike Stroud, building upon Alex's previous research and a report by NASA suggesting polar traverses as an excellent analogues for space research – the White Mars Project was born.  Although fixed polar bases have been used for spaceflight studies, similar work had never been performed on a small travelling group who are truly isolated, permitting The Coldest Journey White Mars research study to provide the first opportunity to study the physical and psychological effects 'at the extreme' on this expedition crew, particularly: a prolonged period of complete isolation, altered day-night cycle, chronic hypobaric hypoxia and exposure to extreme environments.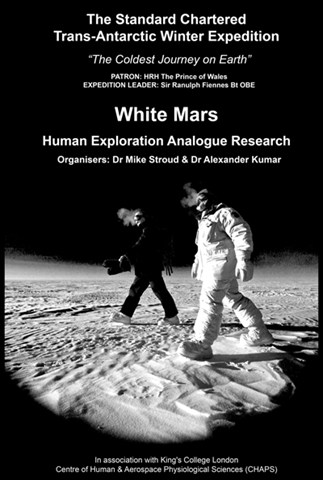 For further details see:
http://www.thecoldestjourney.org/science/the-white-mars-project/
Shackleton Epic Expedition 2013
In early 2013 Alex joined the Shackleton Epic team, under-taking one of several re-creations of Sir Ernest Shackleton's famous escape from Antarctica.  The expedition having been filmed for the Discovery Channel will appear as a 3 part television series, 'Shackleton: Death or Glory' in October 2013.  Alex appears as the onscreen expedition medical doctor and scientist and provided still images, recreating some of Frank Hurley's images for the documentary.
The expedition crew of six, led by Tim Jarvis, sailed across the Southern Ocean, departing Elephant Island sailing to South Georgia, in a life boat called the Alexandra Shackleton – a near replica of the James Caird with one key difference..  The Alexandra Shackleton contained a waterproof cabin with a seal-able hatch, unlike Shackleton's original James Caird, which was an open lifeboat with just a canvas cover, hurriedly fashioned on the ice.
Alex studied the expedition crew members, attempting to understand the difference in the psycho-physiological reserve and state Shackleton's men endured 100 years ago, during his epic escape, compared to that today.

Guide Dogs
Alex is a huge fan and supporter, hoping to raise a significant amount of money for one of his favourite charities, Guide Dogs for the Blind (www.guidedogs.org.uk)   – here is a video made in support of Guide Dogs – http://www.youtube.com/watch?v=U4PNCWhITDA

(c) reproduced from http://www.alexanderkumar.com/
Of interest
Read More